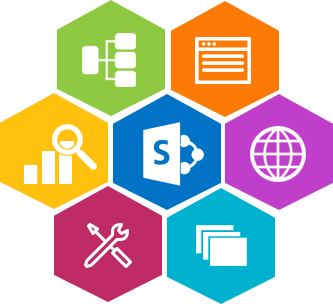 Trusted End-to-End Technology Solutions
For over 10 years, EXI, Inc has been helping organizations to increase their business strength by leveraging Microsoft SharePoint capabilities. We framed up our services to turn this versatile platform into an enabler of multi-level collaboration and intensive workflows, as well as into a reliable basis of enterprise-wide knowledge and innovation management.
Whenever a company plans to implement or uplift a corporate intranet, partner or vendor portal, tailor a document management solution or get a knowledge management system, our SharePoint team is ready to handle the task. While matching SharePoint's components with organizational needs, we aim at contributing to our customers' corporate evolution and business growth.
Our Competencies
Microsoft SharePoint projects since 2007
Microsoft Gold Collaboration and Content Competency
20+ Microsoft SharePoint experts
40+ successful projects for Healthcare, Banking and Finances, Retail, Manufacturing, Oil & Gas and more.
SharePoint Consulting
SharePoint is a platform of multiple faces, and we know them all. Regardless of what SharePoint solution you run or intend to deploy, ScienceSoft's experts will help you tailor the platform to serve your business purposes best. Our SharePoint consultants are ready to assist you at any stage of a SharePoint solution's planning, implementation or tuning to make it effective and widely adopted by employees.
Applying our 10-year expertise in SharePoint consulting, we address various SharePoint-related challenges, both technical and strategical.
SharePoint Development
Whether you need to develop a SharePoint solution from scratch, modify it according to new business needs or optimize its current features, ScienceSoft's team will assist you in getting the task done. Having honed our SharePoint development skills in more than 30 projects in both on-premises and cloud SharePoint environments, our SharePoint team assists organizations in all aspect of designing, implementing and supporting new SharePoint solutions for our clients.
SharePoint Migration
We provide SharePoint migration services to help companies accomplish a smooth change of SharePoint's versions or deployment models. This allows organizations to benefit from the latest SharePoint functions, optimize their infrastructure and provide users with modern, convenient and powerful solutions.
Our services cover 3 main migration scenarios:
Migration of a SharePoint solution to a newer version of the platform (SharePoint 2013 and 2016) to provide companies with enhanced development capabilities, an extended set of user-oriented features and an improved user experience.
Migration to SharePoint Online and Office 365 to let organizations take advantage of cloud solutions, ensure a wider user access, easier scalability and simplified maintenance.
Hybrid migration to let organizations leverage advantages of both on-premises and cloud environments.
While migrating SharePoint solutions, we aim at:

Facilitating your employees' daily activities through advanced features enabling the staff to fulfill their duties quicker and easier.

Improving your current solution performance, making it suitable for employees' working style and adequate to the constantly increasing business speed.

Optimizing SharePoint's architecture or a particular solution's design, in order to reduce maintenance and support efforts. We also ensure either gradual or prompt shift to the cloud, which allows cutting off infrastructure costs substantially.
SharePoint Support And Maintenance
Regardless of what SharePoint version you run, our team of skilled SharePoint consultants and developers is always ready to give you a helping hand in solving issues. Trusting your SharePoint solution maintenance and support to ScienceSoft, you will get:
24/7 competent assistance. Working with SharePoint since 2007, we know all possible drawbacks and relevant ways out however complex the issue is. We have an in-depth knowledge of the platform and will offer the solution that perfectly fits the context.
In-depth investigation of an issue. Our SharePoint experts will find the root cause of the issue to prevent possible recurrences and major impact on a solution's fitness.
Careful issue fixing. While trying to solve a particular problem, we pay a particular attention to the continuity of your business process. We do our utmost to keep your working processes uninterrupted and tackle an issue within the shortest time frame.
Flexible maintenance/support packages with advantageous pricing options that won't burden your IT budget.